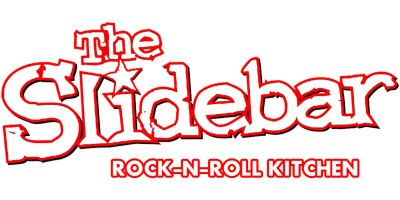 122 E Commonwealth Ave
Fullerton CA
(714) 871-2233
PUB QUIZ—Wednesdays @ 7:00pm
About The Slidebar
ABOUT THE SLIDEBAR ROCK 'N' ROLL KITCHEN
The Slidebar is an independently owned and operated Rock 'n' Roll establishment. We are proud to celebrate the history of Orange County music, while offering the best food, drinks, and entertainment around. If there is anything we can do to make your time here more enjoyable, please let us know.
Here are a few things you should know about our philosophy at Slidebar…
At The Slidebar, we believe the customer is always right – until the customer is wrong. We reserve the right to refuse service to anyone.
We pride ourselves in offering a cool environment, free from idiots. So don't act like one, or you will be asked to leave – very politely of course. Have fun, rock on, be yourself…just be cool.
Thank you for celebrating our musical legacy by coming through our doors.
THE HISTORY
A sizable portion Orange County music history goes back over a half a century and can actually be traced right here, to our very own parking lot in Downtown Fullerton. This is where Leo Fender created possibly the most important contribution to Rock 'n' Roll ever – the Fender Telecaster and Stratocaster electric guitars. Since then, Orange County has been consistently delivering major contributions to the music world.
The Righteous Brothers, Jackson Browne, Berlin, Social Distortion, Agent Orange, T.S.O.L., The Adolescents, Rage Against The Machine, No Doubt, The Offspring, Sugar Ray, and Lit all hail from Orange County. Others such as Van Halen, Guns 'n' Roses, Stone Temple Pilots, Korn, Bonnie Raitt, Jeff Buckley, and The Stray Cats all maintain strong ties to Orange County – and the list goes on.
Many other well-known artists got their start at several historic Orange County clubs and venues. The Golden Bear, The Cuckoo's Nest, Radio City, Woodstock, Jezebels, Joshua's Parlor, The Cowboy Boogie, 5902, Linda's Doll Hut, The Coach House, Club Mesa, The Ice House, Club 369, and a small café in Fullerton formerly known as The Hub – which we now call, The Slidebar.