The Season 9 Tournament of Champions was a night to remember! And for those of you who couldn't be there or can't remember due to exorbitant enjoyment of libations, then allow me – your very own King Trivia The Trivia King – to fill you in on the details.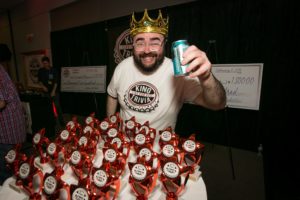 The evening started as many do – friends gathered, rivals plotted, and spectators spectated. After last year's debacle due to PricewaterhouseCooper's miscalculations, we opted to let a different firm protect the question set this year. Our first thought was Jerry Media, but they were unavailable (something about putting out a Fyre). We turned to a new company in Rus- er, um… Eastern Europe to help us out. Quizmaster David Gallic (Gaelic?) was eager to receive the questions and get this show on the road.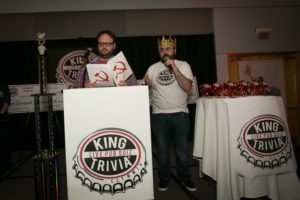 The first round of General Knowledge brought about 5 successful Double or Nothings. Right out of the gate, the other 69 (nice) teams knew they had to watch out for Indifferent Penguins, Team of Enchantment, The Four Eyes Quartet, Flying Chanclas and Eat Me, I'm a Danish.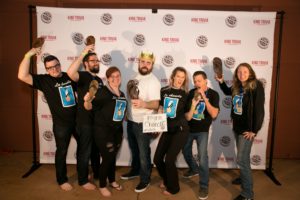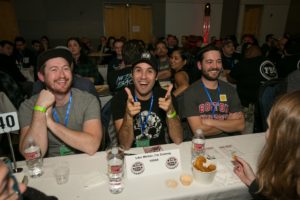 Things I learned in Round 1: San Bernardino is the largest county in the United States. Apparently, Alaska has boroughs because they think they're better than the rest of us lower 48.
Between Rounds 1 and 2, I took a moment to mingle with my trivia subjects and I met a couple of the spectator/supporters for Trivia Newton-John. They informed me I should join them in getting Physical. I informed them the only workout I do is lifting pints.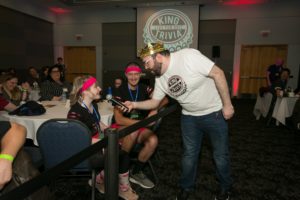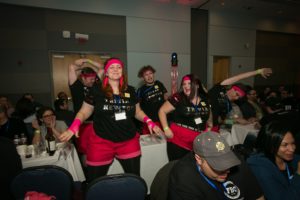 Round 2 was one for the gamers – a truly rare breed within the trivia community (yeah, right). Care to give it a go?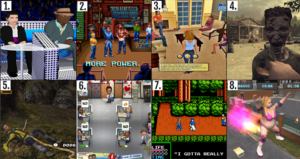 Things I learned from Round 2: Little Britain has a video game. Things I also learned from Round 2: Little Britain is a TV series, apparently. Yes, that last picture (number 8) is not a video game version of Jackass or Inside Amy Schumer (though if it were the latter, I'd be worried about exactly what was inside Amy Schumer). It is Little Britain: The Video Game.
After Round 2, only The Four Eyes Quartet was in first place. Would they be able to maintain first place? Read on to find out.
I mingled more with my people. I worried that teams with similarly-themed names would start to form rivalries: Penis Riot vs Dick City: Population Wieners, Bruce Jennertalia vs Big Willie Style.
To ease the tension, I picked random teams to answer bonus questions for swag prizes: shirts, bottle openers, koozies. It seemed to appease the crowd.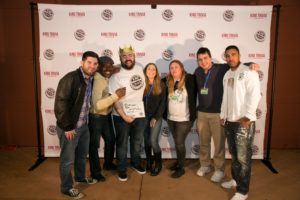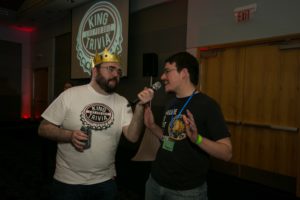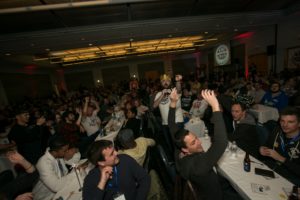 Round 3 was titled "Oh, the Horror!" and boy, was it scary. Fear of clowns? Check. Michael Myers? Check. More cowbell? A terrifying check.
Things I learned from Round 3: Maneater is a song by Hall & Oates, while Manhunter was the cinematic debut of Hannibal Lecter. Be careful team Eat Me, I'm a Danish – Hannibal just might.
The Guess Who round did a nice job of shaking up the rankings. Jazz Hands, Swedish Fish Oreos, Paddington Kills, We Got Nothing, and Crippling Autism all ranked within 7 points of first place. How would you have done with this "excellent" Round 4?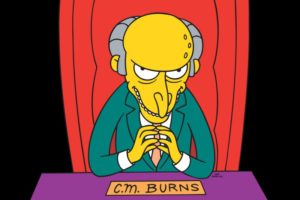 Things I learned from Round 4: Mr. Burns had an incestuous affair with his cousin, and one of the TOC teams seemed very excited by that idea… … …
Moving on!
Round 5 brought about another dramatic change to the rankings. After a number of successful Double or Nothings, the top 5 teams were Eat Me, I'm a Danish, Indifferent Penguins, Jazz Hands, Swedish Fish Oreos, and Paddington Kills. But Secular Healing, Because Jeopardy Won't Let Us Drink, and Westeros Baptist Church were not far behind.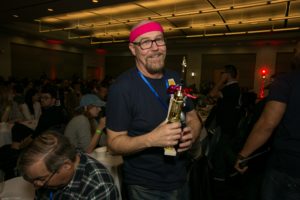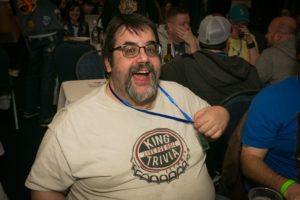 And I would be remiss if I didn't point out that 25th place would also be taking home a prize from the Tournament of Champions. As a King, I like to not only reward those subjects who succeed above and beyond the crowd, but also those who wallow comfortably in the middle – achieving just enough to be recognized but not enough to be given tons of money.
Things I learned from Round 5: Some teams get very excited when you start asking questions about the world of fabrics.
Before we moved on to Round 6, it was time to crown a Spirit Award champion. Throughout the night, three teams had proven themselves worthy of such a title. Two-time Spirit Award Winners Our Combined IQ Is… were there to defend their title, but Trivia Newton-John and Yassss Queens were hungry for the win.
The crowds cheered, they stomped their feet, they were hooting and hollering for their favorite team. In the end, the Yassssies had spoken and the Yassss Queens would take the throne from Our Combined IQ Is. The former Spirit Award champions graciously conceded their (figurative) crowns to the Queens.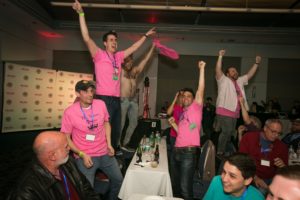 Round 6 was a dreaded or pleasing sports round (depending on your level of sports nerdery). Many successful Double or Nothings meant that the rankings didn't shift too much, and teams remembered to bring their sports fanatic.
Things I learned from Round 6: Everything. The only trophy I recognize is the Participation Trophy I stole from a middle schooler last week.
Care to test your trophy knowledge?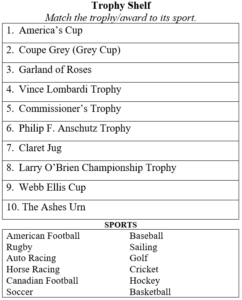 Well, it was a long night, but we finally made it to Round 7 – the last chance for teams to find fame and glory. The question asked of them?
What are the 10 countries with the most casinos operating legally?
To no one's surprise, it was a tough round. But this is the Tournament of Champions. The winning teams have to earn that prize money! My kingdom wasn't built on charity, but rather the blood, sweat, and tears of trivia players (and beer – it was definitely built on beer).
Things I learned from Round 7: Latvia is a country and the Latvian people like to gamble.
Now's a good time to give a shout out to the DJ, Mix Master Mark (I have no idea if he uses Mix Master as his moniker, but I'm sticking to it). Mix Master Mark kept us all dancing and singing along to hits from all eras. From rock, to swing, to every parent's 2018 nightmare, "Baby Shark".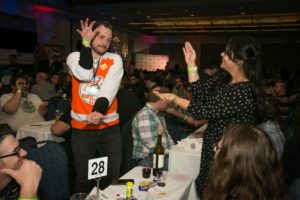 Kudos to you, Mix Master Mark.
And before we wrap this up, thank you to Cal State LA for hosting in the beautiful Golden Eagle Ballroom. A big thanks to all the Quizmasters who worked the event (and all those that couldn't). Thank you to the office staff at King Trivia who keep the dream of drinking and answering questions alive. A HUGE thank you to all of the King Trivia players who come back week after week to put their pride on the line. And thank you to Josh L. – though you lack the beard and massive beer belly, you are the true King of King Trivia.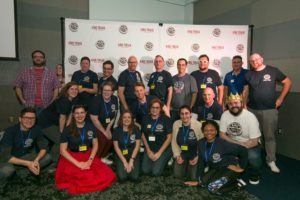 And finally, the final rankings of the Season 9 TOC:
First Place: Eat Me, I'm a Danish
Second Place: Indifferent Penguins
Third Place: Team of Enchantment
Fourth Place: Swedish Fish Oreos
Fifth Place: Jazz Hands
Twenty-Fifth Place: Jessica's Team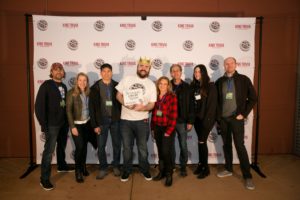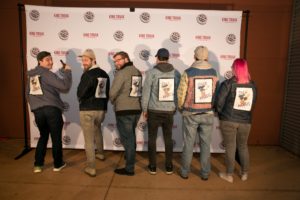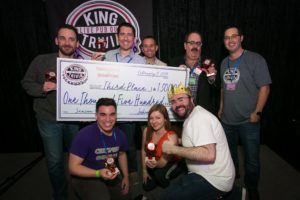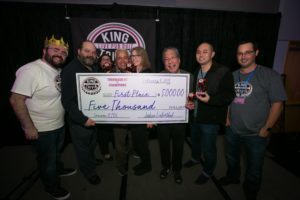 Until next year, my loyal trivia-nuts, this is your King – forever and always at your service. And now, I'm off to get a drink.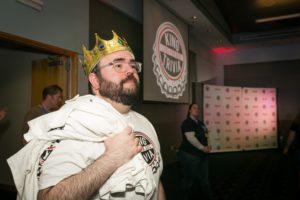 Later!
The King
______________________________________________________________________________________________________________________________________
FINAL RANKINGS
| | | |
| --- | --- | --- |
| 1 | Eat Me, I'm a Danish | 73 |
| 2 | Indifferent Penguins | 70 |
| 3 | Team of Enchantment | 65 |
| 4 | Swedish Fish Oreos | 60 |
| 5 | Jazz Hands | 59 |
| 6 | We Got Nothing | 58 |
| 7 | Secular Healing | 55 |
| 8 | Because Jeopardy Wont Let Us Drink | 55 |
| 9 | Great Minds Drink Alike | 55 |
| 10 | Those People | 55 |
| 11 | Bakshi Boys | 54 |
| 12 | Bruce Jennertalia | 53 |
| 13 | Paddington Kills | 53 |
| 14 | The Mighty Baanchods | 52 |
| 15 | Like Winter, I'm Coming | 50 |
| 16 | The Four Eyes Quartet | 49 |
| 17 | Westeros Baptist Church | 48 |
| 18 | The High Tops | 46 |
| 19 | Mr. No Poster Shop | 46 |
| 20 | Crippling Autism | 44 |
| 21 | Big Mouth Billy Bass | 44 |
| 22 | Stats 400 | 44 |
| 23 | Group Blind Date | 44 |
| 24 | Jessica's Team | 43 |
| 25 | 900 Dollarydoo$ | 43 |
| 26 | HRL Space Cadets | 43 |
| 27 | Streets of Rage | 42 |
| 28 | 2 Lego 2 Movie | 42 |
| 29 | Dick City, Population Weiners | 41 |
| 30 | The Pen-Ultimates | 40 |
| 31 | Hubris + 1 | 40 |
| 32 | Da Bears | 40 |
| 33 | Highway Stars | 40 |
| 34 | Flying Chanclas | 39 |
| 35 | The Bean Counters | 39 |
| 36 | How Bout Them Bruins | 39 |
| 37 | The Test Tickles | 39 |
| 38 | Concentration Champs | 38 |
| 39 | There's Always Next Tournament | 38 |
| 40 | Gary's Olde Towne Tavern | 38 |
| 41 | The Borg | 38 |
| 42 | Sunday Brunch | 38 |
| 43 | Outvoted on #3 | 37 |
| 44 | Ask My Balls | 37 |
| 45 | Pasadena Peeps | 36 |
| 46 | Whiskey Quizness | 36 |
| 47 | Black Dragon Society | 35 |
| 48 | Hodge Podge | 35 |
| 49 | Mr Bottomley's Jacket | 34 |
| 50 | Our Combined IQ Is… | 34 |
| 51 | Six Days Sober | 32 |
| 52 | The Spanish Inquizition | 32 |
| 53 | 9/8 Central | 31 |
| 54 | Zach Attack | 31 |
| 55 | Da Nile | 30 |
| 56 | The Nightman Cometh | 30 |
| 57 | Dil-Don'ts | 30 |
| 58 | Trivia Newton John | 30 |
| 59 | Spare Parts | 29 |
| 60 | Why Do You Ask Two Dogs | 29 |
| 61 | Fighting Mongooses, That's a CooL Team Name. | 28 |
| 62 | Big Willie Style | 28 |
| 63 | El Guapo and a Plethora of Sweaters | 28 |
| 64 | Penis Riot | 27 |
| 65 | Area 51 | 25 |
| 66 | Gazpacho | 24 |
| 67 | SNAFU Worldwide | 23 |
| 68 | Yaasss Queens | 22 |
| 69 | Knobheads | 22 |
| 70 | Tequila Mockingbirds | 18 |
| 71 | Short Handed | 18 |
| 72 | Awesome Sauced | 17 |
| 73 | Blumpkin Spice Latte | 17 |
| 74 | TILF | 12 |