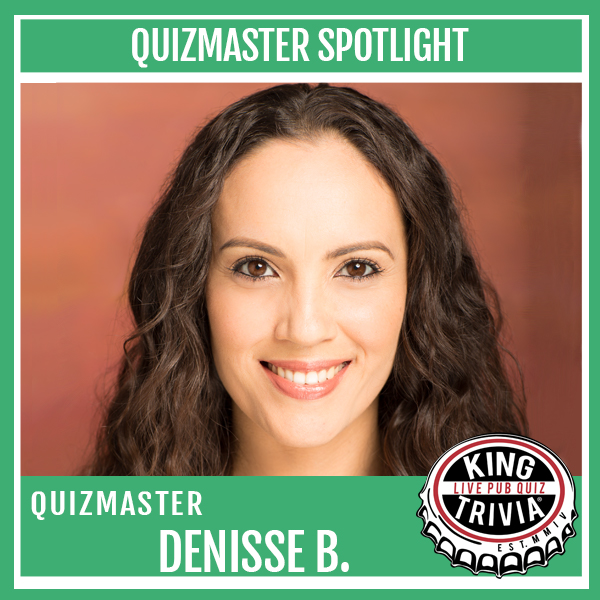 Denisse Bon, your friendly SoCal native that lives to entertain and put a smile on your face. Actor, singer, cosplayer, gamer, sports fanatic, geek, collector, comic book reader, astrology and astronomy lover, worshiper of animals. All in all a free spirit, and open-minded human being.
What made you want to host trivia with us?
As I embraced my artistic and freelancing lifestyle, I found King Trivia® through and just fell in love. I love a good competition and I love learning new information, and I love more than anything being in front of a crowd. I think it's the greatest job EVER to be a Quizmaster for King Trivia® in particular. I am a really big fan of theirs; their  system and different rounds to play trivia is just brilliant to me. I am honored to be a part of the team.
What is the topic you'd dominate in trivia?
I feel mostly confident in the cartoon department. Looney Tunes, Disney (Animated Shorts), The Simpsons, Garfield, Justice League (incl'd Unlimited and Young Justice), and Adventure Time hands down! I am really good with anything on Star Wars, episodes 4-5-6 specifically. Also, I'm one of those Beatles fans that you can play one second of a song and I should be able to sing or hum the rest of it for you.
What is the most interesting thing about you?
I have always had the bug to perform, since I can remember. When I finally got to visit Hollywood for the first time I was about 11 years old. My parents, sister and I were on the walk of fame coming out of a souvenir shop, when I clearly remember taking in a deep breath with my eyes closed. As I exhaled I looked up at my dad and with a big smile I said to him, "I'm gonna live here someday." My dad smiled back saying, "really?" My sister, "Eeww, whyyy??" In a daze and big smile I replied, "I don't know…I just know I am." Eight years later, sure enough, I declared my independence and made the big move to the great city of hope in pursuit of my dream. This August will be my 20th year anniversary in Los Angeles!
Who would you let punch you in the face?
[Siiigh] Monica. My sweet friend Monica from Brasil, is who I would nominate to punch me in the face. She is still, to this day, very welcome to do so. Monica and I met a little over 10 years ago, when she hired me for a couple of her student films, while earning her director's certificate. We became good friends after the second gig, and I was fortunate to be a part of her thesis, not only as an actress, but writing and producing it as well. I can't remember if it was before or after her thesis, but Monica wanted to sell her filming equipment, Sony camera, and pretty much everything that came with it. All worth between $8-10,000. She had been trying to get it on Ebay and at that time I had access to it and a Paypal account already, so I offered to help her out. Everything to do with it, she was there to see. I never did anything without her knowledge, even when I fell for a fraudulent payment of $8,000. Yes, that's right, the Nigerian fraud fever got the best of me, and it was ME who told Monica the sale went through. It was ME who told Monica we should get to USPS and send it along right away. Alas, the days pass and no payment of $8,000 ever made it into my bank account. I just lost it as soon as I figured it out. Explaining what happened was even harder to do. After giving her the terrible news, I kicked and broke my closet door, and I rampaged my room in rage of my stupidity and embarrassment for what I had done to my sweet friend Monica. And would you believe SHE was the one trying to calm me down? Ugh, I couldn't look at her without balling. I felt and still feel horrible for that. She had already forgiven me, that sweet angel. But I robbed her of her money, and I will never forgive myself for it. So I would go as far as to manicure Monica's hand for her to punch me in the face.